Disclosure: This article may contain affiliate links, meaning that when you make a purchase, I earn a small commission. Affiliate links cost you nothing to use and help keep my content free. It is a win-win for us both! For more info, see the Disclosure Policy.
TEFL, TESL, TESOL, CELTA, ESL, ESOL, ELL… Aghhhhh!
You want to teach English as a second language, but all these acronyms are mind-boggling. What does it all mean?!
You don't know which certification is better – there are so many to choose from.
Let's break down the differences between TESOL, TEFL, and CELTA so you won't feel so out of your depth. In short:
TESOL vs TEFL vs CELTA
TESOL: Teach English to Speakers of Other Languages
TEFL: Teach English as a Foreign Language
CELTA: Certificate in English Language Teaching to Adults
Other Acronyms
ESL: English as a Second Language
ESOL: English Speakers of Other Languages
ELL: English Language Learner
TEFL, TESOL, and CELTA programs help you become a better English teacher by providing training, but they differ in their structure and the way they are implemented.
By taking one of these courses, you will learn how to teach students English skills such as writing, reading, listening, grammar, and speaking. You will also learn classroom management and know how to meet the different needs and expectations of English language learners.
So what does this really mean?
What is a TEFL course?
TEFL, which stands for "Teaching English as a Foreign Language," is the most widely known certification for teaching in non-native English-speaking countries.
A TEFL course is an internationally recognized qualification that enables you to teach English in countries around the globe where the native language is not English. It typically includes classroom management techniques, lesson planning, material design, and other important skills needed by language teachers.
It is most suitable for prospective teachers who want to travel abroad and teach in other countries. You will learn how to handle the classroom in a place where English is not the first language.
Although a TEFL course usually has an impressive pass rate, it typically requires four to six weeks of dedicated effort to finish it successfully. You don't require any special credentials or training to get started, and the only requirement is that you are fluent in English.
When you receive your certificate of completion, you will be ready to apply for jobs as an English-language teacher around the world. I was lucky enough to find a great job teaching English in Spain shortly after completing my TEFL certification.
What is a TESOL course?
TESOL is another common acronym you may hear in the world of English language teaching. A TESOL course is generally best for those who want to teach non-native English speakers in their home country. It stands for "Teaching English To Speakers of Other Languages" and is a commonly used term in the U.S.
If you're in North America and looking to teach English language courses at a public school, then you'll need a master's degree in TESOL. Luckily, this requirement does not extend to private language schools; with just a TEFL certificate or alternative credentialing option, you can still snag the job!
British, Australian, and Canadian often issue a TESOL course for domestic teaching regulated by the government. The United States has yet to establish any national regulations for English instructors in private language academies; thus, most U.S. and European instruction uses TEFL as a standard when teaching overseas.
Check out this video for further clarification:
TESOL VS TEFL
When conversing about teaching English to non-native speakers, the terms TESOL and TEFL are often used interchangeably. Specifically, TESOL stands for "Teaching English to Speakers of Other Languages," while TEFL is an acronym for "Teaching English as a Foreign Language."
what is the difference between TESOL and TEFL?
In theory, TEFL refers to teaching English in a non-native country where English is not the first language. TESOL, on the other hand, includes the teaching of English in native-English-speaking countries.
In actuality, either acronym can get you employed at home or abroad; however, "TESOL" tends to be more popularly heard throughout America whereas "TEFL" dominates the United Kingdom, Australia, Europe and elsewhere.
Having a TEFL, TESOL, or CELTA is normally a prerequisite for teaching English abroad and online. Likewise, having a Bachelor's degree (in any subject) is a typical requirement. There are still options for those who don't have a degree, though!
How Much Does a TEFL, TESOL OR CELTA Course Cost?
The cost of a TEFL course varies greatly. The price depends on the length of the course and if they offer in-class training or teaching practice. Generally, you can expect to pay anywhere from $150 – $2500 USD for a full certificate program. It's also important to look at exactly what is included in that fee.
Courses that provide on-the-job experience or in-person training are more expensive than online-only courses. Online courses are a popular choice, as they are very convenient and accessible.
There may also be the option to take on a "hybrid" course, where part of the course is online, and part is in-class. This type of course usually offers a more comprehensive approach to learning and teaching English as a foreign language.
What Should You Look for in a TEFL/TESOL Course?
With no universal TEFL accreditation board or standardized requirements, it can be a challenge to decipher the quality of available TEFL courses. However, certain countries have put measures in place to ensure course providers and qualifications adhere to specific regulations. Make sure your TEFL course meets the following criteria:
At least a 120-hour course
Ongoing support from experienced tutors
Provide assessments and grading
Continually updated quality course material
Some in-class training or teaching practice (optional)
Job support and assistance (optional)
For English Language Teachers or Those Looking to Get Started…
Teacher tips, new teacher checklist, teacher planner, and notes. Subscribe for ESL News, jobs, and more!
CELTA Certificate
Furthermore, if you really want to invest in your course, you should look no further than a CELTA. A CELTA stands for "Certificate in English Language Teaching to Adults." It is awarded by a branch of the University of Cambridge.
A CELTA is a very intensive and widely-regarded ESL course. However, you do not need a CELTA to get an English language teaching job, and it doesn't mean it is the best course for you.
Oftentimes, it will say on the job advertisements that they accept teachers with a "CELTA or equivalent," which means that you don't necessarily have to do a CELTA course. A level-5 TEFL course provides the same level of qualification as a CELTA, which is suitable for the same role.
The key is getting experience under your belt, which will work in your favor when applying to these schools. Think about your experience working with kids or adults, and include that in your resume.
My Recommended TEFL Course
There are plenty of online courses out there, but I highly recommend The TEFL Academy if you want a teaching certificate from an internationally recognized, government-regulated TEFL provider. It landed me a job within less than a week of completion.
The course offers a level-5 qualification (the same level as a CELTA) and equates to a 168-hour course.
If you can, try to get a course with some classroom experience included. This was the option I chose, and it really improved my job opportunities when I was first applying for jobs.
The TEFL Academy guides you through the process, from finding a job to planning lessons. If you want to find out more, read my review.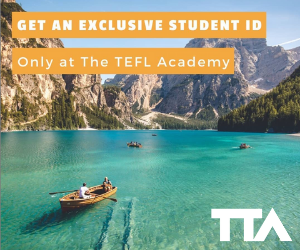 TESOL Recommendation for Teaching Online
If you plan on teaching English online and need a certificate quickly, I recommend this TESOL certificate from the International Open Academy.
You can check out their TESOL course here. While it may not be a level 5 qualification, it is sufficient for some online and in-person teaching roles. They are accredited by the International Council for Online Educational Standards (www.icoes.org).
The International Open Academy's course is one of the most popular courses completed by online ESL teachers. It only takes them roughly a weekend to complete.
They also have a TEFL certification course, the same as the TESOL one. Either one is fine, but due to the popularity of the TEFL overseas, I would go for this one. You can find it here.
This TESOL/ TEFL course is not very in-depth compared to the other courses, but many teachers have used it in the past to get high-paying jobs ($25p/h+) online.
Conclusion
There are a few options when it comes to TEFL/TESOL certification. The most respected course for teaching abroad is the CELTA; however, if you want something that won't break the bank, a TEFL or TESOL course is more than sufficient.
Whatever you choose, make sure it is from a regulated and internationally recognized provider. This will give you the best chance of success when applying for jobs. Good luck!
FAQ
Do these courses expire?
TEFL and TESOL courses do not expire! You will have the certificates for life. You can even study for more than one if you find an interesting course.
How much do online TEFL courses cost?
They can cost anywhere from $20 to $1000+. It depends on what you are looking for in a course and the price you are willing to pay. Expect to pay $200+ for a good course.
How long does it take to complete the TEFL course?
The TEFL course usually takes 4-6 weeks to complete on average. You are given a time frame in which to complete the course. Some TEFL courses are more intensive than others, some being 100 hours while others have 300-hour certificates.
How much can you make as an online English teacher?
The pay is limitless. You can work for companies and make $20 per hour, or you could freelance and specialize and make $100+ per hour. It also depends on the country you work in and what you intend to do with the teaching certificate. Currently, I make up to $65+ per hour teaching groups.
Can non-native speakers of English take a TEFL course?
Yes, non-native English speakers can do a TEFL course. English does not have to be your native language in order for you to teach it!
Useful Links
Online Teacher Toolkit
Be IN The Know
Get the latest jobs, news, and opportunities delivered directly to your inbox by joining my exclusive community. Grab my teacher planner, teacher checklist and tips now. Sign up here.
GEt Certified
Start your teaching journey and get certified now. Watch my YouTube video about how I got started, or read about my experience here: The TEFL Academy review.
START Your First Teaching JOb
New to the world of online teaching or just want to fill some hours in? Curious if this is a career you want to pursue? Check out Cambly to get started. Read the Cambly review.
Highest-Paying Online Teaching Jobs
In my post, I cover a list of some of the highest-paying online teaching jobs. Alternatively, use the curriculum online and find your own students. It's easier than you think!
ACCEPT PAYMENTS ONLINE and Save money
Use Wise to accept payments from overseas. Wise has the lowest exchange rates that I am currently using right now. Get Wise.
I'm an Irish tutor and founder of TPR Teaching. I started teaching in 2016 and have since taught in the UK, Spain, and online.
I love learning new things about the English language and how to teach it better. I'm always trying to improve my knowledge, so I can better meet the needs of others!
I enjoy traveling, nature walks, and soaking up a new culture. Please share the posts if you find them helpful!