TEFL, TESOL, CELTA, ESL, ESOL, ELL… Aghhhhh!
You want to teach English but all these acronyms are mind boggling. What does it all mean?!
You don't know which certification is better – there are so many to choose from.
In this article, I break down the differences between a TESOL and TEFL to help you discover the best one for you while exploring some of the other common acronyms so you won't feel so out of your depth. In short:
TESOL — Teach English to Speakers of Other Languages
TEFL — Teach English as a Foreign Language
CELTA — Certificate in English Language Teaching to Adults
So what does this really mean?
Let's also break down the costs, course expiry, and duration of such certification. You will learn what to expect from this accreditation and how to base your decision.
This post contains affiliate links. For more information, see my disclaimer here.
TESOL VS TEFL
The terms TESOL and TEFL are used interchangeably when speaking about courses. They are basically the same thing so you don't have to worry which one you get for online English teaching.
You will often hear the term "TESOL" used more often in the United States, whereas you will here "TEFL" more commonly in the U.K. and elsewhere.
If you want to teach English abroad, you must show that a qualification like the TEFL or TESOL.
Usually, a teaching certificate, such as a TESOL or TEFL, is required if you apply for a job as an English Language Teacher. I recommend a TEFL or a TESOL because they are usually much more affordable and less time-consuming than a CELTA.
Language schools abroad normally accept both types of accreditation- TESOL, and TEFL. Ultimately, both courses aim to enhance their teaching skills and help students improve fluency.
What is a TEFL certificate?
A TEFL, also known as 'Teaching English as a Foreign Language,' is the better-known certificate of the two.
The course typically takes over 120 hours to complete, like the TESOL.
It is most suitable for teachers who want to travel abroad and teach in other countries. You will learn how to handle the classroom in a place where English is not the first language.
I acquired a TEFL certificate over four years ago. It qualified me to travel to countries such as Spain and England to teach English. It also qualified me to teach English online, which I now do on a full-time basis. You can check out my story here:
A TEFL certificate is not very hard to pass, but you need to put in the work.
You don't need a bachelor's degree or any other qualifications to complete it. The average time to completion 4-6 weeks. If you haven't anything else to do, you can complete it even faster.
When your receive your certificate of completion, you can apply for all the jobs you want in schools or on websites such as ESL Starter. But be wary of recruiters, research the job thoroughly and make sure the school exists to avoid scams.
What Should You Look for in a TEFL Course?
At least a 120-hour certificate
You can find it on the Register of Regulated Qualifications
Ongoing support from experienced tutors
Provide assessments and grading
Continually updated quality course material
A government-regulated qualification
Some In-class training or teaching experience (optional)
Job support and assistance (optional)
My Recommended TEFL Certification
I highly recommend the TEFL Academy if you want a teaching certificate from an internationally recognized company. It was voted "Best 2019 TEFL Course" by Go Overseas Community Choice Awards and "2019 Top Rated Program" by GoAbroad.
It landed me a job within less than a week of completion.
The course offers a level-5 qualification (the same level as a CELTA) and equates to a 168-hour course.
If you can, try to get the certificate which includes some classroom experience. This was the option I chose and it really improved my job opportunities when I was first applying to jobs.
The TEFL Academy guides you through the process, from finding a job to planning lessons. If you want to find out more, read my review here.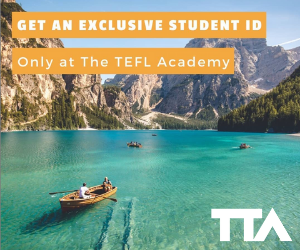 How Much Does a Course Certificate Cost?
The cost of a TEFL certificate can vary drastically, based on the courses themselves.
Some TEFL courses give you on-the-job experience or in-person training. Others are based online.
Check the course accreditation and make sure it's valid. Some courses are misleading, especially those course on the daily deal websites.
If you just want to teach online and not teach abroad, keep reading, because there is another option.
Thank you
for signing up!
What is a TESOL certificate?
A TESOL certificate is a course generally best for those who want to teach non-native English speakers in their home country. It stands for 'Teaching English To Speakers of Other Languages' and it is a commonly used term in the U.S.
It is important to research the TESOL that is right for you. The TESOL certificate is applicable for teaching in your own country and countries abroad.
In the U.S., you may need a master's degree in TESOL to be an English language teacher at the public school level. This does not apply to private language schools.
Check out this video for further clarification:
TESOL Recommendation for Teaching Online
If you plan on teaching English online and need a certificate quickly, I recommend this TESOL certificate from the International Open Academy.
You can check out their TESOL certificate here. I recommend it because it's cheap and a good place to start. They are accredited by the International Council for Online Educational Standards (www.icoes.org).
This is the most popular certificate completed by online ESL teachers. It only takes them roughly a weekend to complete.
They also have a TEFL version of this course which is basically the same thing. Either one is fine, but due to the popularity of the TEFL, I would go for this one. You can find it here.
If you want to get it to secure a job teaching English with a company online, this is the course for you. But if you want more experience and expertise, I recommend taking The TEFL Academy course, which I talked about earlier.
This TESOL/ TEFL certificate is not a very in-depth course, but it is accepted by all major online ESL companies.
CELTA Certificate
Furthermore, if you really want to invest in your certificate, you should look no further than a CELTA.
A CELTA stands for "Certificate in English Language Teaching to Adults."
A CELTA is a very intensive course and a widely regarded ESL course. However, you do not need a CELTA to get a job as an English Language Teacher.
You can still apply for teaching jobs if you have some form of certification.
I was previously accepted to teach in schools that were looking for 'CELTA-qualified' candidates in their job advertisements, which proves my point that you don't need a CELTA.
The key is to get some kind of experience under your belt, and that will work in your favor when applying to these schools. Think about your experience working with kids or adults and make sure to include that in your resume.
Conclusion
As you can see, there are some slight differences between the TESOL vs TEFL certificate.
Generally, companies abroad will accept either qualification. TEFL is a popular course to take if you want to teach abroad.
A TESOL is a good idea for those from America who want to teach in their native-English country. Check the requirements to teach English in your country if you are concerned about this.
If you want to teach English online, the course from the International Open Academy will suffice. Get as much experience as you can under your belt and you can go anywhere!
FAQ
Do these courses expire?
TEFL and TESOL courses do not expire! You will have the certificates for life. You can even study for more than one, if you find an interesting course.
How much do online TEFL courses cost?
They can cost anywhere from $20 to $1000+. It depends what you are looking for in a course and the price you are willing to pay. Expect to pay $500+ for a good course.
How long does it take to complete the TEFL course?
The TEFL course usually takes 4-6 weeks to complete on average. You will have a good time-frame in which to complete the course. You can complete them even faster if you want. Some TEFL courses are more intensive than others, some being 100 hours while others being 300 hour certificates. You can complete some in just a short weekend.
How much can you make as an online English teacher?
The pay is limitless. You can work for companies and make $20 per hour, or you could freelance and specialize and make $100+ per hour. It also depends on the country you work and what you intend to do with the teaching certificate.
Useful Links